Well, ok, I lied— it's not really an ode. It is about my husband though! Today marks the two year anniversary of our wedding and I thought it was about time I stopped talking about Byron (just for a minute, mind!) and talked about the other man in my life, Ashley, as recent conversations have gone like this:
Him: What you doing?
Me: Just scheduling some blog posts!
Him: Oh.


Pause.


Him: Are you writing about me?
Me: Errr…
Him: Why don't you ever write about how pure I am and how you luuurve me?
We first started talking when we were 17 years old and we looked like this: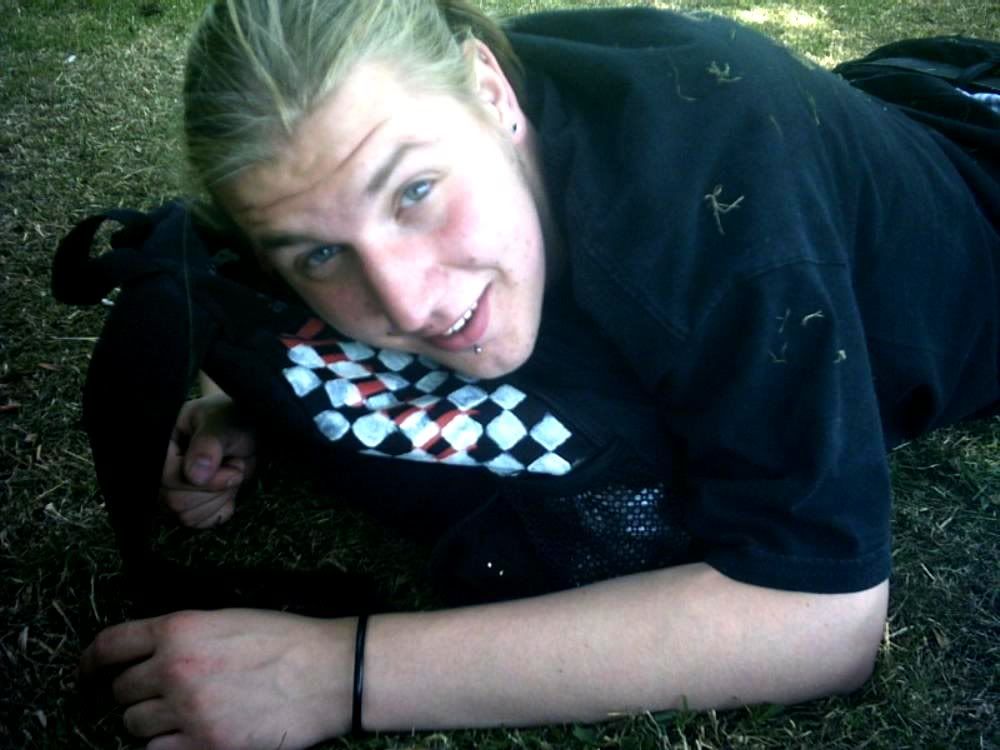 Looking really good.
We'd already been working together for 18 months when we met, but working in a big supermarket and on different departments, our paths never really crossed. I was aware of Ashley— as was everyone; he was tall, loud and unlike any other person that I worked with— but there was definitely a time when I thought his name was Alex. A chocolate bar I'd bought got stuck inside the vending machine and I asked him to give it a whack for me, to get it out. He obliged, despite me getting his name wrong and quite frankly, a man that helps you get chocolate, is a keeper, right?!
There were a few things that first got us talking and unbeknown to her, one of those, was my mum! She was my department manager and happened to notice a CD that Ashley was listening to, was the same name as a band I had scrawled over a t-shirt— Thursday. She innocently mentioned it to him and I think she told me about it too. I don't think she had any idea what she'd done! The next bit is all a bit of a blur, but I know there was some MySpace stalking (on both our parts!) and I later found out he'd printed out one of my photos and stuck it in his wallet! We didn't talk properly until one afternoon at work when I asked him to help a customer out with a glass loan and he managed to slip and smash hundreds of wine glasses in one go. I found out that he's not easily embarrassed (even now!) and he made me laugh, even if it was at him!
Our two year anniversary at London Zoo!
We had a little chat that afternoon about music and found out we had a lot of common interests! That weekend, we went for a drink to a pub near his college, as he knew we'd get served. He ordered cider and I had a vodka and coke. I remember it was the longest, most random bus journey and I had no idea where the hell I was going, but I still felt safe! We managed to miss the last bus home, so rather than get a cab like normal people, he rang his mum and dragged her out to pick us up, with his very sleepy kid brother. We listened to Caliban on his discman while we waited (showing my age!) and carried on our chats about anything / everything. I don't think there was a moments silence!
By the following Saturday, we were 'going out'! We'd spent every day together from our first date and continued to do so literally for the next 18 months or so! It doesn't work for some, but it completely worked for us. We used to spend a lot of time at his band practices, gigs and in Wetherspoons drinking Blue Lagoon. Good times!
I don't think either of us were looking for someone that we were going to spend the rest of our lives with when we were just 17, but we were lucky enough to do just that. We started dating in 2005, moved out in 2009 and got engaged 4 months later, married in 2011 and had a baby in 2012!
A few months before moving in together
He asked me a few days ago how I describe him to other people… Well! Where do I begin? He's loud, opinionated, loving, a bit of a gentle giant, creative, music-obsessed, competitive, funny and stupid— not academically (although he did spell his name 'Ashling' up to an age that is probably older than acceptable) but the kind of stupid where we pull fugly faces at each other before we turn the light off at night, talk in Northern accents to imitate our older selves and laugh uncontrollably at very stupid stuff. The kind of stupid that no one else understands, but I do! He's also the best dad and seeing both his and Byron's faces light up when he comes in from work, is the best. We look like chalk'n'cheese on the outside— I'm relatively reserved and complexed; he's loud and simple (hahaha) but I think that's what makes us so compatible.
FYI, he describes me as "relaxed and laid-back. Out of the two of us, I've definitely got the better deal!" Which sounds about right, as I'm about to give him a back rub! What a lucky man.
We've celebrated our anniversary this year, the best way we know how— FOOD.
Happy anniversary, goober!